Why do we work?  What is the point?  What can we hope for from work?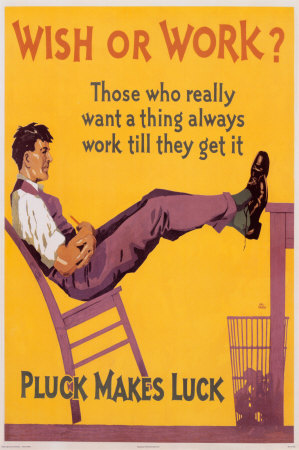 One of the extraordinary things we see in the ancient biblical book of Ecclesiastes is reflections of our contemporary attitudes from millennia ago.  This is true in the area of work.  In Ecclesiastes, the teacher takes it upon himself to turn his considerable wisdom to the topic of work.  As is his way, he throws himself deeply into the experience of work:
I undertook great projects: I built houses for myself and planted vineyards.  I made gardens and parks and planted all kinds of fruit trees in them.  I made reservoirs to water groves of flourishing trees.  I bought male and female slaves and had other slaves who were born in my house. I also owned more herds and flocks than anyone in Jerusalem before me. (Eccl 2:4-7)
What did he discover from his foray into construction, horticulture, landscaping, trade and animal husbandry?  He found personal fulfillment: ' My heart took delight in all my work, and this was the reward for all my labor.' (2:10).  He increased his reputation: 'I became greater by far than anyone in Jerusalem before me.' (2:9).  He found power to consume: 'I amassed silver and gold for myself, and the treasure of kings and provinces. I acquired men and women singers, and a harem as well– the delights of the heart of man. ' (2:8).
Don't these themes sound familiar today?  Much of the motivation in the workplace could fall under the categories of seeking personal fulfillment, improving your reputation and gaining the power to consume (earning money to spend).
How did it work out for the teacher in the end?  Emptiness:
Yet when I surveyed all that my hands had done and what I had toiled to achieve, everything was meaningless, a chasing after the wind; nothing was gained under the sun. (2:11)
As intoxicating as his achievements were, they didn't last.  As happens to all of us, time got the better of him.  As the cliche, goes, very few people wish they had worked harder on their deathbed.  Retirement and ultimately death rob us of the satisfaction of a career.
This all sounds fairly bleak.  Is there any good to be found in work?  What about from a Christian perspective?  Are there right motivations for Christians to work?
Stand by for part 2…