Our church is led by Jesus Christ, he is the Head of the church and it's Chief Shepherd. Under Jesus we have local church leaders who lead and guide on Jesus behalf called Elders or Pastors. Those men, who meet certain biblical qualifications, are appointed to lead us. All of them should be known for their strong character and ability to teach our faith. Some of them will have undergone academic training alongside their training and experience in local churches. They are ordinary people who have the great burden and honour of leading in Jesus' church.
Current Pastors
Samuel Lindsay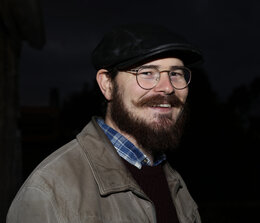 Samuel is keen to see people know Jesus and grow in their faith. He, his wife Laura and their young daughter moved to Sale in early 2021 to serve God by serving the people of Flooding Creek. Having grown up in and served in churches over many years, he has no delusions about the difficulties of Christian life, but loves seeing God's grace overcome our shortcomings. He is a graduate of Queensland Theological College and passionate about healthy, local, Bible-teaching churches.
Other Structures
Administration Committee
This committee is made up of members of Flooding Creek, and it's job is to take care of the practical aspects of running the church, including the financial and secretarial needs.
Board of Reference
This board is made up of people outside Flooding Creek who have a vested interest in seeing God's church flourish here. We consult them when making big decisions so that we can hear their wisdom and outside perspective.
FIEC
Flooding Creek is independent of denominational structures, but we belong to a family of like-minded churches called the Fellowship of Independent Evangelical Churches. It means we share fellowship, and can collectively support Gospel work across Australia. While this fellowship does not have day-to-day impact on the running of the church, we have voluntarily committed to affirm their Statement of Faith and abide by certain standards that are prerequisites for belonging to the association.